A Short History of the Pipers' Gathering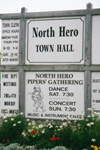 The Pipers' Gathering first saw the light of day in 1985 when Alan Jones started the North American Northumbrian Pipers' Convention. Despite its name, the weekend event held in North Hero, VT was a celebration of all types of bellows-blown bagpipes and traditional music.

Old Town Hall, North Hero
By 1998, the convention had grown into a major piping event that was eagerly awaited by long-time supporters and newcomers alike. A committee was formed to ensure the continuity of this activity and 1999 saw the first Pipers' Gathering held in the old town hall in North Hero. When the town hall was closed down, the Gathering was held under canvas in the grounds of the Shore Acres Motel in North Hero and this continued to be the venue until a thunderstorm during the 2004 event convinced the committee that there were certain drawbacks to tents – a change of location was required.

Early in 2005, the committee announced that the Pipers' Gathering would be held for the first time in Killington VT, and held its collective breath to see how participants would react to this change of venue. It need not have worried; the 2005 Pipers' Gathering was one of the most successful in recent years.
The Gathering was hosted by Champlain College in Burlington, VT from 2011 – 2013. While the venue had exceptional facilities, it did not lend itself to the casual playing, jam sessions and off hours "gatherings" that attendees held dear from previous venues. The 2014 shift to Wisdom House in CT was an attempt to reclaim that part of the event that seemed so central to past years.  Attendee feedback suggests that the goal was achieved. We extend our heartfelt thanks to the staff at Wisdom House for making us feel so very welcome!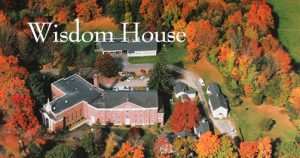 The Gathering offers participants an opportunity to enjoy meeting some of the leading players and teachers in four areas of bellows-blown piping: Uilleann pipes, Northumbrian small pipes, Scottish small pipes and English pipes. Each year, an effort is made to introduce an extra element of piping to participants and recent events have hosted exponents of Border pipes and French pipes.
Past instructors have included: