Like what you see below? Register now!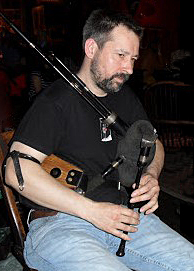 Ian Kinnear (Scottish smallpipes) lives and works in Edzell, Angus (halfway between Aberdeen and Dundee on the east coast of Scotland).
He began playing pipes at the age of 10, when he was taught by John McDougall and David Taylor. Whilst studying geography at Edinburgh University he continued playing pipes with Scottish Gas pipe band and Edinburgh University OTC pipe band. During this time he also tutored at the University Bagpipe Society and the innovative Adult Learning Project in Edinburgh.
Ian began making Scottish Smallpipes in Edinburgh in 1993. Piping has taken him to many parts of the world where he has given solo performances and played as a member of pipebands, and smallpipes and folk ensembles (Brittany, Portugal, Germany, Switzerland, Belgium, Spain, Sweden, Ireland and USA). He has also been privileged to judge piping in Brittany.  Ian enjoys a hectic life of making and playing pipes combined with family life!  Learn more about Ian and his pipes here.
Chris Layer (Scottish smallpipes etc) is an extremely diverse musician. His orchestral appearances include: The National Symphony (Kennedy Center), The Alabama, Detroit, Lafayette, Knoxville, Indianapolis, Milwaukee, Muncie, and Richmond Symphony Orchestras, as well as The Aspen Festival Orchestra, and The Bard Festival Orchestra. Festivals include: Moab Music Festival, Aspen Music Festival, Bard Music Festival, Festival Internacionale de Louisianne, Musiksfest-Regensburg, BDR, The Bard Festival at Lincoln Center. Concert Production: The First Folklife Concert at Ticonderoga, "La Nouvelle Orleans" and "Music In The Barn" both for Project America at the 92nd St. "Y". Compositions include: Scoring for the Irish independent film Exile. Solo recordings: Out Of Thin Air, Return Of The Rivers, both available through the artist. Christopher is a native "Hoosier" and the son of Soprano Dolores Layer and Fiddler Ed Layer. Since 1996 he has been the principle pipe soloist and flautist for the Trinity Irish Dance Company and currently resides in New York City.
Patrick D'Arcy (Uilleann pipes) hails from Dublin, Ireland and has spent most of his musical life plying his craft in California.
"Paddy the Piper" tours regularly both in the US and internationally. Since 2010 he has had the privilege to record and tour extensively from The Royal Albert Hall to The Grand 'Ol Opry to Carnegie Hall with modern hymn writers Keith & Kristyn Getty.  Patrick plays locally with some exciting projects, namely; The Ne'er Duwels, Celtic Pink Floyd & Rattle The Knee.  He regularly hosts traditional Irish music sessions in the LA area.
As well as recording and performing with local bands and producers in Los Angeles, he also participates in online recording sessions with artists all around the world. He enjoys teaching the Uilleann pipes & whistle locally in California as well as at tionóil (gatherings) around the country and also online to a world wide student body.
In his early days of playing the Uilleann pipes he would venture to County Clare where he found a firm footing by attending the legendary "Willie Clancy Summer School" in Milltown Malbay, named after one of Irelands most influential pipers.
He is a founding member of the Southern California Uilleann Pipers Club and creator of UilleannObsession.com
Patrick plays two main instruments, one in concert pitch by Koehler & Quinn and the other a "flat set" in B by Geoff Wooff.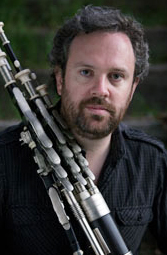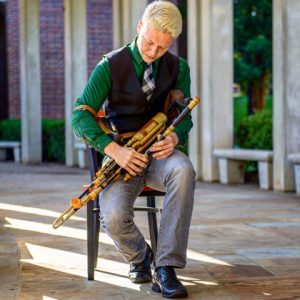 Hailing from sunny Tallahassee, Florida, Michael Stribling (Uilleann pipes) is an award winning Uilleann Piper and Irish musician.  In County Cavan, Ireland he competed and won the title of "All Ireland Champion" on the Uilleann Pipes at the Fleadh Cheoil na Eireann.  Michael has spent a good part of his formative years in Ireland and England performing and studying traditional Irish music, he has been mentored by piping greats such as Jerry O'Sullivan and Mickey Dunne.  His style exhibits technical punctuation with a rhythmical drive, and is heavily influenced by the music of Uilleann piping master, Patsy Touhey.  He regularly joins the Internationally touring Irish bands Fullset and Runa.  In 2014, Michael added the traditional Irish element for renowned country music artist Trace Adkins' Celtic Christmas tour, performing on Uilleann pipes, flute and whistle  When he isn't playing music, Michael competes in Ironman triathlons across the United States.
Chris Ormston (Northumbrian smallpipes) has been a musician from an early age. He was given his first set of pipes on his 15th birthday and nine months later won the Northumbrian Pipers' Society Junior Class.  Within three years he had won every Open competition in the county.
Early in his piping career he acquired a taste for the classic repertoire of the pipes with its associated 'detached' fingering style and he has continued to hone his understanding of that approach ever since.  In particular, he has held an interest in the music of the Clough Family of Newsham, who were at the forefront of the piping scene for 200 years from the late 18th Century.   Chris has collaborated with the Northumbrian Pipers' Society in the publication of two collections: 'The Clough Family of Newsham' (2000) and 'The Clough Family Tune Book' (2012)
He has appeared on a number of compilation recordings, and even topped the USA album charts as a session musician on Peter Gabriel's 'Us'.  Chris continues to perform solo and in occasional partnerships with other musicians. He provides group and individual tuition, at home and abroad, and is sought-after as a competition judge.
In 2011 Chris was honoured to take possession of 'Young' Tom Clough's pipes, made by Reid of North Shields. This set was given to Tom by his grandfather Henry Clough and Chris treasures these as his first-choice set of pipes.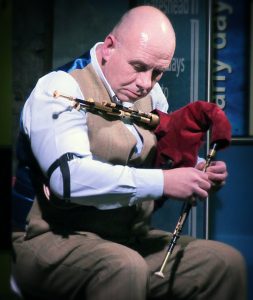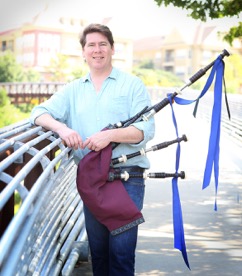 EJ Jones (Border pipes)  began his musical journey at the age of 11 when he began studying the traditional music of the Great Highland Bagpipe. At age 13 he had his first experience performing alone, busking on a street at a festival. Since then he has walked the two sides of the instrument: first in the lifetime study and performance of traditional music in competition, and second in the exposure to the public the power and wildness of the bagpipe as an instrument of the festival.
EJ attended Carnegie Mellon University in 1993 for two semesters under the direction of Jimmy McIntosh, where he continued intensive study of classical Scottish bagpipe music. At night he would busk in various locations around Pittsburgh with guitarist Jen Hamel. In 1994 he moved back to Houston with Hamel and reorganized the band Clandestine, which would eventually become a nationally touring quartet playing some of the best Celtic music festivals in the US, along with a few trips to the Festival Interceltique de Lorient in 1997, 2000, and 2002.
In 2002 while still touring and after recording four albums with Clandestine, EJ made his first solo album The Willow with the help of famed guitarist/producer Gerry O'Beirne and friends Rosie Shipley (fiddle), Wolf Loescher (percussion), and Randy Miller (bass/engineer). EJ, Rosie, and Gerry would later tour together until 2004 as the Willow Band.
EJ began making Scottish Smallpipes in 2003, and this became his career focus until 2013.
In 2013 he refocused on performing full-time and created the group Piper Jones Band, which has had recent successes in headlining festivals across the US. EJ is embarking on an ongoing recording effort beginning with the 2015 release The Wandering Stars with bouzouki player Frances Cunningham and many friends.
London-born John Skelton  (flute, whistle, bombard)  learned to play the flute and whistle during the early seventies. His grandfather and great-grandfather were flute and tin whistle players. John was a founding member of the band Shegui, and for six years toured throughout Europe with them. The band included pianist/fiddler John Coakley and singer Seán Keane. John is perhaps best known for his work with The House Band, with whom he recorded eight albums on the Green Linnet label.
John has released a solo album, One At a Time, as well as Double-Barrelled, a highly regarded album of flute duets with Kieran O'Hare. He is the compiler of a series of tune collection books, A Few Tunes, A Few More Tunes, Yet More Tunes and Some Breton Tunes. John has performed at most of the major folk festivals in North America, Europe and Australia. He is an experienced and influential teacher, and has taught at summer schools in the United States, Europe and Africa. In addition to his background in Irish music, John is also well-schooled in the music of Brittany. He visits there regularly, and is a highly-regarded player of the Breton bombarde, a double-reed shawm. NPR's 'Thistle and Shamrock' described him as 'the finest bombarde player outside of Brittany.' John also plays the 'Piston' (low bombarde), the 'Veuze' (the bagpipe of eastern Brittany) and the 'Gaita Gallega' (Galician pipes).
John lives in Kentucky.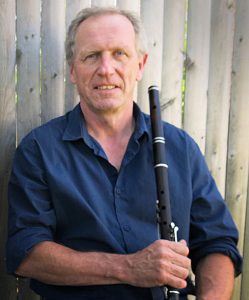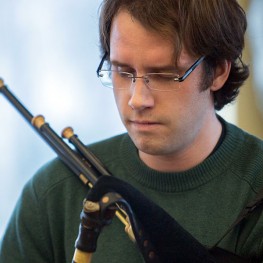 Chris Gray (pipes, whistle)  grew up on Mount Desert Island, Maine, and has been playing music and creating art for as long as he can remember. He received his BA in Music and Visual Arts from Bowdoin College in 2010. He then went on to attain his Diploma in Irish Traditional Music and an MA in Ethnomusicology from University College Cork, in the south of Ireland, in 2011 and 2012.
Recently, Chris has immersed himself in the traditional Acadian music of Maritime Canada. With the support of Chuck Donnelly and the Acadia Trad School, Chris formed the group Août Gris with fiddle phenom Gus La Casse. Chris and Gus performed at the Acadian World Congress in August, 2014.
Chris is both an artist and a musician/composer. As a multi-instrumentalist, he specializes in playing the Great Highland Bagpipes, the Uilleann pipes, and Irish whistles in addition to being an accomplished percussionist. He has recorded and produced three albums, Piob More (2010), Ceol As Corcaigh (2011), and Août Gris (2014).
Frances Cunningham lives in Nashville, Tennessee, and for the last 20 years, has accompanied bagpipes, banjos, fiddlers, singers, and everyone who needed her brilliantly thought out chords behind them. She is originally from Houston, Texas, and learned to play Irish music through guitarist Lloyd Gibson and flute player Turlach Boylan at their weekly sessions at McGonigel's Mucky Duck. She went to high school at Houston's High School for the Performing and Visual Arts where she studied the French horn and started playing at weekly contra dances with her friend Eden MacAdam-Somer. Frances toured the US with a Celtic rock band (SixMileBridge) in the mid-90s with her husband Sean Cunningham, who plays the flute and pipes. She discovered a talent for arranging tunes and songs together and especially for coming up with just the right chords and timing to make everyone she plays with sound great.
In 2011 Frances joined the Mike Snider Band at the Grand Ole Opry and was the primary accompanist there for five years playing every weekend. In 2015 she joined the Piper Jones Band and has been touring and recording extensively with piper EJ Jones.
In 2013 Frances won the Midwest Fleadh (traditional Irish music contest) in both tenor banjo and accompaniment and was the primary accompanist in the US for Shetland fiddler Lynda Anderson.
Frances teaches workshops on accompaniment and illustrating the difference between Scottish, Irish, and American Old-Time tunes.
After 20 years of accompanying other musicians, Frances is being backed up by some of her dear friends on this first album released under her name.