Thanks to our fabulous instructors, volunteers and attendees, Pipers' Gathering 2015 was a smashing success!
The 2015 Gathering is now a cherished memory, but we aren't going into hibernation!  Watch this space for announcements about video/audio recordings, and more "off season" piping fun.
Looking ahead to the 2016 Gathering?  We have tentatively scheduled it for August 19 – 21, 2016 at Wisdom House in Litchfield, CT.  This annual event welcomes newcomers and advanced players alike, with both traditional bellows-blown pipes and instruments a little "outside the box". Complementary instruments are also featured, because really the point is to play well with others. World-class instructors, lots of hours of instruction/workshops and a relaxed setting makes this a weekend not to be missed.
Many, many thanks to our spectacular 2015 instructors:
To purchase the album produced from the 2014  concert, go to: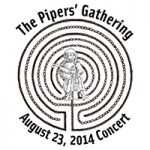 Or find the "Pipers Gathering 2014" album sold also at these stores:
The Gathering on Facebook