Save the date for the 2017 Gathering, August 18 – 20 in Litchfield, CT.
Watch for details about our concert recording,
and about our 2017 Gathering, coming soon!
In the meantime, browse the 2016 Program Booklet,
with beautiful layout by Carolyn Kilburn
The Pipers' Gathering  takes place in August at Wisdom House in Litchfield, CT.  This annual event welcomes newcomers and advanced players alike, with both traditional bellows-blown pipes and instruments a little "outside the box". Complementary instruments are also featured, because really the point is to play well with others. World-class instructors, lots of hours of instruction/workshops and a relaxed setting makes this a "pipers camp" weekend not to be missed.
Our 2016 list of instructors included:
Iain MacInnes and Barry Shears on Scottish smallpipes
Brian McNamara and Benedict Koehler on Uilleann pipes
Bill Wakefield on Northumbrian smallpipes
Will Woodson on Border pipes and flute
Laura MacKenzie on flute and whistle (and a few surprises?)
Chris Gray on Scottish smallpipes, Uilleann pipes and whistle
Dan Foster on Fiddle
Owen Marshall on guitar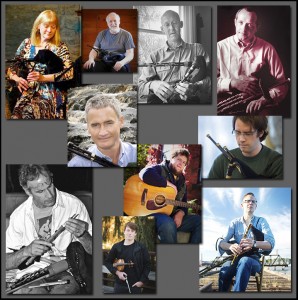 While waiting for the 2016 Pipers' Gathering, listen to recordings from our 2014 & 2015 concerts!
Click on each album image to link to places to purchase it: